How I Can Help You Sell Your Home
Why should you sell your home with me? Because my proven Get It Sold SystemTM sells homes 3 times faster and for top dollar! On average, the homes I list sell in 12 days, while the average for other agents in Northern Virginia is 38 days1. And, the longer your home sits on the market, the lower the sales price.
I won't just put up a For Sale sign in your yard and enter your home in the local multiple listing service, I will work closely with you to craft a custom sales and marketing strategy that is uniquely suited to your home. To do this I focus on four critical factors:
Strategic Pricing
Staging To Sell
Superior Marketing
Savvy Negotiation
Strategic Pricing
The most important factor when selling your home is the price. We'll use my sophisticated pricing approach to decide on an accurate price together that puts your home in the most competitive market position possible. A well-priced home often generates competing offers and may drive up the final sales value. It will also prevent you from being one of the 45% of sellers who end up reducing their price and selling for less2.
Staging To Sell
A great first impression – both in person and online – is the key to selling your home quickly. That's why I include a professional staging consultation at no cost to you with one of the best stagers in business. My stager is so good, the Real Estate Staging Association selected her as a Top 10 Stager of the Year in 2014 and 2015. She will help transform your home into a showplace that looks like a model home.
Staged homes sell 73 percent faster, are more likely to end up on buyers' "must see" lists, and have fewer concessions asked of the seller3.
Staging also helps to ensure your home looks great in photos. And with 92% of buyers using the internet2 to search for homes, great looking photos will give your home the visual edge needed to attract buyers online and motivate them to visit in person.
It takes a team of dedicated professionals to prepare your home to look its best. I will provide access to my network of preferred providers – from contractors to handyman to painters and more – to help you streamline any needed upgrades or repairs.
Remember: You never get a second chance to make a great first impression.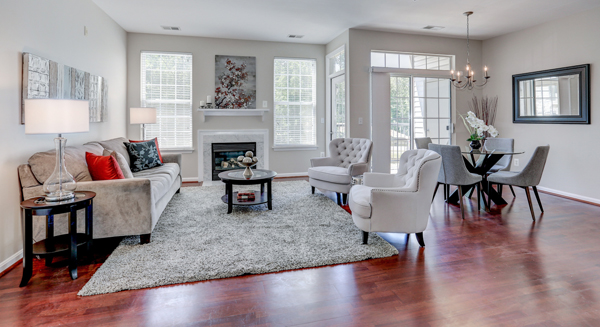 Superior Marketing
Once you have set your home's price and made it look it's best, it's time for me to put my cutting-edge marketing strategies to work to get the maximum exposure for your home. No two homes are alike, and the marketing mix of activities will vary based on what's best for your property, but here's a look at many of the tactics I will employ:
Gorgeous Professional Photography
When you look at listings online you'd think that many other agents feel that basic photography is all you need to sell a house. But I believe that gorgeous, eye-catching professional photos are absolutely vital to getting your home sold quickly. In fact, high-quality photography can sell a listing 50% faster and generate 118% more online views4. That's why my experienced professional photographers and videographers use the most advanced digital camera systems available to deliver unparalleled quality images of your home.
Immersive 3D Virtual Tour Experience
To create a genuine 'wow factor' online, I will use an amazing groundbreaking new technology that provides the most realistic, immersive way to tour a property online. This full-scale, 360-degree, 3D model places a potential buyer right inside your home and lets them move through any room and see it from any angle. It feels so real, it's like being there.
Unique Property Website
To give your home maximum online exposure and provide a rich source of high-quality photos, 3D tours, and information for potential buyers, I will create a unique website just for your home. This website is designed to be highly visible on search engines such as Google, Bing and Yahoo!. Plus, the site features easy share buttons for Facebook, Twitter, Pinterest, LinkedIn, Google+ and email. See a sample property website.
Effective Digital Marketing
I will promote your home on all the top housing search web sites including Zillow®, Trulia®, Realtor.com®, Yahoo!® Real Estate, Homes.com®, DoD Housing Network, and most importantly, the Metropolitan Regional Information System, which is used by 46,000 real estate agents in Virginia, Maryland and Washington, D.C. and drives $125 billion in real estate transactions a year.
Custom HD Video
For some homes, I will have a custom High Definition video produced using MoVI, a professional hand-held electronically stabilized camera system which can simulate a dazzling variety of cinematic movements to captivate potential buyers.
Distinctive 'Take-One' Brochure
I will create a beautiful, visually compelling full-color brochure for potential buyers who visit your home. The brochure is printed on thick, high-gloss card stock, and will help buyers – who often see as many as 8 to 10 homes on a given day – remember all of the details of your home and walk away with a lasting impression.
Real Estate Agent Action Plan
With 95% of buyers using a real estate agent to purchase a home, reaching REALTORS® is a vital part of the home search process. I will target thousands of agents who are working with qualified buyers looking for a home, including those who have participated in the most recent sales in your area, with special notices to let them know that your home is for sale.
Open Houses
48% of buyers2 (and many nosy neighbors) visit open houses. I will promote your open house through Internet ads, agent-only fliers, open house postcards to the neighborhood and open house signs to get potential buyers to visit your home.
Savvy Negotiation
I am a skilled and experienced negotiator and will help you negotiate a sales contract in your best interests and explain the process along the way. I'll ensure that you get the best price and favorable closing terms.
However, the process is not over once we have a ratified sales contract. There are still several hurdles to cross before we reach the settlement table. In any given real estate transaction, there are more than 50 documents, 100 signatures and at least a dozen parties involved, from the buyer and seller to realtors, home inspectors, lenders, title companies and more. I will oversee all of the transactional details for you, manage deadlines and coordinate everything for you to ensure a successful and stress-free sale.
Learn more about how I can help you
The list above outlines the broad range of tactics I'll employ to get your property sold in the least amount of time for the highest final sales price.
For a free consultation and professional opinion of your home's value and marketability, email or text/call me at 703-447-0970.
Read my blog about how my Get It Sold System™ helped my client's sell their home in Arlington's Cherrydale neighborhood in just 5 days.

1Metropolitan Regional Information Systems
2National Association of Realtors Profile of Home Buyers and Sellers
3Real Estate Staging Association
4IMOTO photo